Kinex™ Antibody Microarrays
The Kinex™ antibody microarray services provide a convenient and extremely cost-effective means for the discovery of productive research leads such as biomarkers and insights into signal transduction protein regulation. These services our utilize antibody microarrays to track the differential binding of dye-labeled proteins in lysates prepared from cells and tissues. The results can yield useful insights into differences in protein expression, phosphorylation and protein-protein interactions, and define antibody reagents that can be used to follow up on these findings.

The Kinex™ KAM chip has typically 25-times the antibody coverage than a typical Kinetworks™ immunoblot analysis, it uses 5- to 10-times less cell/tissue lysate protein, and it yields duplicate measurements at 10- to 30-times less cost. Therefore, the antibody microarray is a particularly attractive initial route for taking a systems biology, proteomics approach to studying human diseases or experimental model systems.

Our current full Kinex™ Service uses the KAM-880 chip with two samples analyzed in duplicate with over 877 antibodies.

The 518 pan-specific antibodies used in the chip provide for the unique detection of 186 unique protein kinases, 44 protein phosphatases and 131 regulatory subunits of these enzymes and other cell signalling proteins that regulate cell proliferation, stress and apoptosis. This provides information about the expression levels of these target proteins. The 359 phosphosite-specific antibodies track the non-redundant phosphorylation of 180 sites in protein kinases, 3 sites in protein phosphatases and 150 sites in other cell signalling proteins. In some cases, additional multiple antibodies from different commercial vendors have been used to monitor the expression or phosphorylation of the same target proteins. We also offer the option of partial analyses with the Kinex™ KAM-880 microarray with either ~518 pan-specific or ~359 phosphosite-specific antibodies at a discounted price.

With our Kinex™ antibody microarray services, both cell/tissue lysate samples are labeled with the same dye and analyzed separately on the same Kinex™ microarray chip. This approach avoids the misleading results that can arise from the differential binding of different dyes to proteins that is problematic with the two dye competitive system used with other commercial antibody microarrays and the DIGE 2D gel electrophoresis approach.

Non-denatured proteins are typically analyzed on commercial antibody microarrays offered by other vendors. This option is also available with the Kinex™ KAM-880 Antibody Microarray. However, there is increased opportunity for false positives and false negatives due to antibody cross-reactivity, protein-protein interaction, and blocked epitopes in protein complexes. From our internal studies with cells from different species, only 30 to 45% of the protein changes detected on the Kinex™ KAM antibody microarrays were reproduced by immunoblotting.
To reduce the rate of false positives and negatives from the problem of protein-protein interactions, we have added the option of having the lysate proteins subjected to chemical cleavage in a manner that preserves the integrity of most protein phosphorylation sites.
Apart from the issues of false positives and false negatives due to unforeseen antibody cross-reactivity and protein-protein interactions, with the high sensitivity of antibody microarray detection, about 20 to 30% of the time, the target proteins are not easily visualized by immunoblotting. This is despite strong detection with the same antibodies on our microarrays. Therefore, we highly recommend that any interesting Kinex™ results that clients may wish to follow up be first confirmed by Western blotting. Unlike other vendors that sell antibody microarrays, we offer a cost-effective, custom Western blotting service (Kinetworks™ KCPS 1.0) that permits up to 18 antibodies from our Kinex™ antibody microarrays to be used at a time for such validation studies. Our Custom Kinetworks™ KCSS 1.0 service also allows clients to choose any 3 target proteins (of different molecular weight) to be quantified in 8 different samples side-by-side on the same immunoblot. The availability of these Kinetworks™ analyses is an important distinguishing feature of our antibody microarray services as clients can have their research leads conveniently and inexpensively confirmed.
Another unique feature of our Kinex™ KAM-880 Antibody Microarray Services is that clients can freely view our extensive databases of Kinex™ Antibody Microarray and Kinetworks™ Multi-immunoblotting results that have been generated from over a decade of service provision by Kinexus. Our on-line KiNET-IB Immunoblot database features the results from over 6000 Kinetworks™ immunoblots. Our KiNET-AM database has the data from the analysis of over 4000 cell and tissue lysates on our antibody microarrays. Open access queries of the KiNET Databank can be performed based on protein, model system and treatment searches. This ability for our customers to compare their own Kinex™ Antibody Microarray results with thousands of other studies undertaken with the same methodology, reagents and equipment is not available from any other vendor of microarray products or services. Furthermore, as part of the KAM-880 reports provided by to our clients, signalling pathway analyses with our Kinection Pathway Maps is also performed.
Our Kinex™ services provides researchers with access to antibody microarray technology for application to their research programs without the need for special expertise and expensive equipment such as microarray scanners and quantification software. Our goal is to keep the costs for our Kinex™ services lower than if clients purchased the microarrays and tried to perform the analyses in their own laboratory. A client can just send his/her cell/tissue lysates frozen with dry ice by courier to Kinexus. We perform the dye-labelling of the extracts, the incubations with the antibody microarrays, scanning and quantitation of the antibody spots, and the preparation and delivery of a summary report back to client within 4 weeks.
For overseas clients for whom access to microarray scanners and shipment of their cell/tissue specimens on dry ice to Kinexus is very cost-prohibitive, we recommend that they utilize our Kinex™ KAM-880 Antibody Microarray Kits. Users of this product may also send their processed KAM-880 chips back to Kinexus for free scanning and if desired, preparation of a KAM-880 Report for an additional fee. Instructional videos are provided with the Antibody Microarray Kit as well as available for viewing on the
Kinexus Bioinformatics You-Tube Channel
.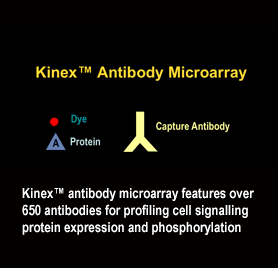 Download Kinex™ Antibody Microarray Services Fillable Forms in .doc format.